Esendal works as an exclusive boutique which offers personalized and top quality service bringing full satisfaction. Our clients are very important to us. When you travel with us you will see the difference ... We pay extra meticulous attention to every detail and special care that distinguishes us, from all competitors. We will never compromise your comfort. We insist on the strictest standards of maintenance and cleanliness.
Esendal Travel conduct many different tours all over Turkey for families, small groups, executive people, student groups, incentive groups and VIP people.
We are very flexible and make tailor made programs upon request. Esendal Travel is adedicated tour operator which cooperates with travel agents in Turkey and USA. We are ready to provide you with professional assistance for your travel needs to Turkey. We have many types of tour programs that fits to your needs.
Point of interests
Cappadocia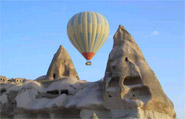 It is one of those rare regions in the world where the works of man blend unobtrusively into the natural surroundings. After volcanic eruptions of the mountains in the region, early Christians gave a shape to the wind and rain eroded rock cones. They made their churches, chapels, houses, and underground cities for hiding from their enemies.
Would you like to enjoy taking a walk in these magical valleys surrounded by churches, cities, carved houses or touring the fairy chimneys and horse back riding along the rivers into the history?
---
Inside the Asia Minor
There is a good chance that the road you will be traveling on is the same one great warriors of the east and the west trod, and colorful caravans passed along, and couriers with mail or secret treaties galloped. Perhaps it is the same road traveled by St. Paul and his disciples, or by Sufis spreading divine knowledge. In addition to the historic edifices proudly displayed at the main archeological sites such as Troy, PERGAMUM, Ephesus, MILETUS, PRIENE, DIDYMA, Aphrodisias, Heracles, Caunos, Perge and Aspendos, many coastal villages and towns are blessed with their very own Anatolian ruins on the outskirts. You will swim in the beaches where once Cleopatra had swum. You can even see the "Sunken Cities" if you look the crystal clear turquoise waters as you swim.
---
The Biblical Tours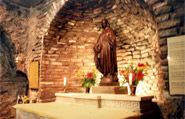 Turkey is the Cradle of Christianity. People of the Faith were first called Christians in Turkey (Acts 11:26). The rainbow first appeared at Mt. Ararat in eastern Turkey (Gen. 9:12-15). Paul of Tarsus spent years in the churches throughout Asia Minor. Polycarp of Smyrna, modern-day Izmir, was one of the first Christian martyrs. The Seven Churches of Asia Minor (Ephesus, Smyrna, PERGAMUM, Thyatira, LAODOCIA, Philadelphia, Sardis) in Revelation 2-3 are in western Turkey. Nicea, of the Nicea Creed, was the site of two ecumenical councils. St. Paul preached some of his first sermons in Ephesus in southwestern Turkey. Virgin Mary spent the final days of her life in her house in the same area. Haghia Sophia in Istanbul was the largest church of its time, once serving as the center for Christianity. St. Philip lived in HIERAPOLIS in southern Turkey. Now would you like to follow the footsteps of St. John...