Daily Istanbul Tour Program for Cruise travelers (1 day)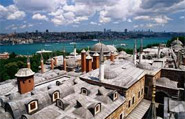 In the morning pick up from the ISTANBUL port or hotel between 08:00 - 08:30 a.m. The guests will take city tour of Istanbul include visit to highlights of Istanbul.
We first visit the Hippodrome where the chariot races and athletic events took place during the Roman period and nearby Blue Mosque famous for its magnificent interior with 20.000 blue Iznik tiles. Originally built as a complex in 1616 by Mehmet Aga, a student of the great architect Sinan. We proceed to Underground Cistern (Yerebatan Sarayi) is by the largest of the many underground cisterns of the city remaining from Roman times and then we visit Museum of St. Sophia (Hagia Sophia).
The masterpiece of Byzantine architecture and is one of the most extraordinary buildings in the history of architecture. 1400 years old. It stands as a testament to the sophistication of the 6th century Byzantine capital and was of paramount influence on architecture in the following centuries. The vast edifice was built over two earlier churches and inaugurated by Emperor Justinian in 537. In the 15th century the Ottomans converted it into a mosque.
After Hagia Sophia we visit The Topkapi Palace Museum, the great palace of the Ottoman Sultans and enjoy the dazzling displays of their treasures, the unique collection of Chinese, Japanese, Porcelains and the countries of arts. The Topkapi Palace located on the peninsula that overlooks the Golden Horn, the Bosphorus and the Sea of Marmara, Topkapi Palace is the oldest and largest of the remaining palaces in the world. It was the official residence and government head quarters of the Ottoman Empire from 1479 until 1856. Here you will see the many remnants of the Sultans privileged life as you walk through mother-of-pearl doorways, past Iznik tiled interiors and see jeweled costumes from the emerald encrusted Topkapi Dagger to the priceless Chinese and Japanese porcelains and the in famous, pear-shaped 86-carot kasikci (Spoon maker's) diamond. See the sultans spiritual treasures as well, including the Holy Relics of Islam brought from Egypt in the 16th century such as the personal garments of the prophet Mohammed and one of the oldest copies of the Koran.
We will visit the handcraft center and Grand Bazaar. The Grand Bazaar is the oldest and largest covered market place in the world, its labyrinth tunnels (streets) covered by painted vaults is lined with more than 3500 of booth like shops. The Grand Bazaar was built between 1455 – 1461 by Sultan Mehmet the conqueror in an attempt to enrich the economic life in the city. Today, shops selling the same kind of merchandise tend to be congregated in their own streets or in Hans this was originally the Ottoman System. The atmosphere of the Grand Bazaar is very interesting for tourists.
Then transfer to port or hotel between 18:30 – 19:30 pm.
---
The Service includes:
Ground transportation by a A/C Luxury van or car (pick up from port and transfer back to port)
Service of professional English speaking guide
Parking, gas and all taxes
Full day sight seeing of Istanbul visiting the highlights: Blue Mosque, Hippodrome, Underground Cistern, Hagia Sophia, Topkapi Palace and Grand Bazaar
Admission fees to museums and site