Come aboard a private jet equipped with fully lie-flat seats for a journey designed by  Yasar Ozdemir  a Turkey specialist and expert- professional Tour Guide to include some of his favourite and highlights of Turkey.
Join Yasar Ozdemir on a Turkey –spanning journey designed by Esendal  Int'l Tourism & Travel's pioneering founder himself. Immerse yourself in most beautiful landscapes and incredible historical sites of Turkey as well as visit the incredible city of Istanbul and its highlights. Istanbul is the only city in the world founded on two continents-Europe & Asia-and it is the unique city in the world that served as a capital for three Great Empires; Roman, Byzantine & Ottoman Empire.  Enjoying ultra-luxury service and five star Turkish Hospitality, safety journey and comfort of Esendal Travel's chartered private jet aircraft with first class. Experience
TURKEY LUXURY TOUR BY PRIVATE JET: SEPTEMBER  11-18, 2021
Travel in Luxury in Safe and Experienced Hands
Esendal Travel safety is our number on priority
ITINERARY AT GLANCE                                                                                            
DAY 1: Arrive in Istanbul –Turkey
DAY 2: Istanbul  / Dolmabahce Palace, Blue Mosque, Roman Hippodrome & Hagia(Saint) Sophia, Turkish and Islamic Art Museum & Private Boat Tour on Bosphorus, serenely passing palaces, Ottoman mansions, luxurious houses, villas, fortresses, bridges and parklands
DAY 3: Istanbul / Topkapi Palace and Grand Bazaar
DAY 4: Istanbul-Antalya-Izmir; Aspendos, Perge, Antalya Museum
DAY 5: Izmir –Ephesus-Izmir; Ephesus, House of Virgin Mary and Museum
DAY 6: Izmir-Cappadocia; Excursion of Cappadocia, Goreme Open air Museum, Zelve Valley with rock Dwellings and sightseeing
DAY 7: Exploring Cappadocia; Hot Air Balloon Trip, Underground City, , Pashabag Valley, Orta Hisar town, Ushisar Rock Castle, Pigeon Valley , Mustafa Pasha town,  hand craft centers and winery house..
8 Days from :……….USD  Please contact us for price
Prices are in USD, per person, based on double occupancy
Limited to 10 Guests
Departure is guaranteed to operate with a minim of 6 guests
Optional pre-tour extension available on this tour
10% Commissionable to tour operators and travel agencies

DAY 01-SATURDAY: JUNE 15, 2021
Arrive in Istanbul
Arrival: Welcome to Turkey Guests are met at the aircraft gate by a hostesses or host and porter. The guests are escorted with priority status through immigration or customs and into the baggage claim area. Where the porter will handle all luggage. The hostesses or host and porter will stay with the guests until they meet with our guide and representative and their transfer to vehicle. Transfer to your top deluxe hotel. Check in your hotel
Meet at the lobby of hotel for welcome cocktail. Following cocktail enjoy your dinner at your hotel's selective restaurant. Overnight in Istanbul.
Meal: Dinner
HOTEL:
Istanbul         :  Luxury Hotel ST. Regis or Park Hyatt Macka Palace or Raffle Hotel-Istanbul
Izmir               :    Swissotel Grand Efes

Cappadocia   : CCR –Resort &Spa Hotel or Argos in
Cappadoci
---------------------------------------------------------------------
DAY 02-SUNDAY: JUNE 16,2021
Istanbul - Full day sightseeing
07-09 AM: Enjoy your breakfast at you hotel.
09:15 AM: We depart from hotel for a full day city tour, visiting the highlights of Istanbul; including Dolmabahce Palace, the last opulent Ottoman palace on the Bosphorus, used as last residence of sultans and government centre between 1856  and 1923,  richly  decorated with gold leaf and priceless paintings, famous hand -made Turkish Herek Carpets and many more valuable objects , chandeliers  and furniture . Then we continue to old city, visit Blue Mosque famous for its interior blue tiles and its fine architecture, built in 1616. Next to Blue mosque   is the Roman Hippodrome, for centuries was the hearth and centre of civic life  of  Roman, Byzantine and Ottoman period, Hagia Sophia (St.Sophia),is among the world's greatest architectural achievements, the master piece and jewel of world architecture and engineering and one of the wonders of the world ,the most important   cathedral of  Christian World between 537-1453. Finally we will visit the Turkish and Islamic Art Museum.  The wonderful collection, in the 16th century palace of Grand vizier, spans1, 300 years of the finest works of Turkish and Islamic world.
17:00; Enjoy  a private boat trip on the scenic and picturesque  Bosphorus, the most strategic water way in the world  between Europe and Asia, which also connects  Black Sea to  Marmara Sea. Enjoy the beauty of Bosphorus and admire, the Ottoman fortresses, the Ottoman Palaces, Summer Mansions, Ottoman Wooden Yalis, and expensive modern villas on both side of Bosphorus  and suspension bridges over the strait.
18: 15:  After city tour return back to your hotel by luxurious coach
19:15 : Depart from hotel for dinner at very elegant restaurant
22:30  : Transfer back from restaurant to your hotel. Overnight in Istanbul
Lunch will be served at an elegant Turkish restaurant
Meals: Breakfast, Lunch and Dinner
-------------------------------------------------------------------------------------------------------------------------
DAY 03-MONDAY: JUNE 17, 2021
07-09 AM: Enjoy your breakfast at you hotel.
09:15 AM: We depart from hotel for a full day city tour, visiting the highlights of Istanbul; Topkapi Palace and Grand Bazaar. Topkapi Palace was not only the residence of the Ottoman sultans, but also the administrative centre of the state and hub of vast Ottoman power between 1475 and 1856. The palace built atop an old acropolis at the tip of peninsula, which has a magnificent view of Bosporus strait, Marmara Sea and Golden Horn (the finest natural gulf of ancient world). The buildings around four courtyards are spectacular. In addition to its historical and architectural interest, it houses extraordinary collections of Chinese, European, Turkish porcelains, armours, fabrics, jewellery, precious stones, miniature, calligraphy, holy relics, and many precious works of art that once belonged to the sultans and their court. After lunch break, we will explore the world wide known, Grand Bazaar is one of the world's oldest and largest shopping canters, it was established by Fatih Sultan Mehmet the conqueror, soon after the conquest of Istanbul (1453), it is a small city in itself with more than 3500 shops of various kind, along with storehouses, workshops, stalls, Hans as well as several social institutions. The shops sell the same kinds old (65 different types), antique goods and souvenirs .During purchasing any item in Bazaar, bargaining is very essential.   .
Lunch at fine restaurant.
18:15 :Return back hotel-transfer to hotel
19:15 : Depart from hotel for dinner at very elegant fish  restaurant
22:30  : Transfer back from restaurant to your hotel. Overnight in Istanbul
Meals: Breakfast, Lunch, and Dinner
---------------------------------------------------------------------------------------------------------------------
DAY 04-TUESDAY: JUNE 18, 2021
ISTANBUL-ANTALYA
06:30-08:30 AM: Enjoy your breakfast at you hotel.
09:00 AM : Transfer from your hotel to Istanbul Ataturk  Airport for a short  flight by your private jet to Antalya Airport .
11:45 AM: Arrive in Antalya by your charter private jet
On arrival in Antalya airport, we board on our luxurious vehicle-coach for touring the important ancient Pamphilian cities of  Aspendos and Perge. Aspendos is known above all for its incredibly well –preserved roman theatre, built in the 2nd century AD. It has seating for up to 12,000 people, and still hosts regular performances, notably of the Aspendos international Opera and Ballet Festival each summer. Next visit an important ancient city of Perge. This ancient capital of Pamphylia (the ancient name of the region) was saved from destruction in 333 BC when its leaders wisely treated Alexander the Great and his invading Armey as honoured guests rather than enemies. It later developed into a great Roman city, and many of its stunning status and sarcophagi can be seen at Antalya's Archaeological Museum.  The highlights of the Roman city's monuments are, The well preserved Stadium, Theatre, Agora , colonnaded Avenue, Agora, Sewage system of city still running. Bath, Hellenistic and Roman city gates.  Then we continue to Antalya city centre to visit the Archaeological Museum and Old Harbour. After coffee and tea break, transfer to the airport for Private Charter flight to Izmir.
18:30 : Transfer to Antalya  airport, for the  flight   by private  charter aircraft   to Izmir Adnan Menderes Airport . Transfer to your top deluxe hotel in Izmir for dinner and overnight.
Meals : Breakfast, Lunch and Dinner
DAY 05-WEDNESDAY: JUNE 19, 2021
IZMIR-EPHEUS-IZMIR
07-09 AM: Enjoy your breakfast at you hotel.
09:15 AM: Journey to historic Ephesus and its environs
.
10:15 AM: We begin our visit with the site of Ephesus, House of Virgin Mary, Ephesus Museum and Temple of Artemis (considered as one of the Seven Wonders of ancient World). Home-made lunch will be served at a country restaurant.
Ephesus, capital of the Roman province of Asia, Ephesus was once the second largest city in the Roman Empire, after Rome itself. Ephesus is one of the greatest ruined cities in the western world. The first settlement here was about six thousand years before now. The city we see today was founded in the 4th century BC by Alexander the Great's successor, Lysimachus. But it was under the Romans the city flourished and became a mega city with 250,000 of populations and the chief port on the Aegean. Most of the well preserved surviving structures date from this period. As the harbour silted up, the city declined, but played important role in the spread of Christianity. Two great councils of the early Church were held here in AD 431 and 449. It is said that the Virgin Mary spent her last days in a small stone house nearby  and St. John the Evangelist came here to look after her  and as well as  St. Paul visited Ephesus, preached here. We will see several left over stunning monuments including the terrace houses in which the rich Romans living, and while you are walking through its streets, you will learn a lot about Romans' daily life, habits, trade and culture; it takes us back to thousands of years. You will be enlightened, and informed with a lot of explanation by your expert guide. The two agora (market places), library, theatres, baths, gymnasiums, temples, town hall, Roman toilets, brothel, fountains, and main streets are some of the monuments , we will be vising  in site.
19: 00 : Return back to you top deluxe hotel in Izmir for dinner and overnight
We gather at the lobby of our hotel for cocktail and drink before our dinner at Hotel. Or Dinner at an elegant fish restaurant near our hotel
Meals: Breakfast, Lunch and Dinner
--------------------------------------------------------------------------------------------------------------------------
DAY 06: THURSDAY: JUNE 20, 2021
IZMIR-CAPPADOCIA

07-09 AM: Enjoy your breakfast at you hotel.
09:15  AM: Leave Hotel and transfer for our private flight by private jet to Cappadocia Airport.
Cappadocia is fame for its fascinating lunar landscape, astounding underground cities, primitive rock carved- cave dwellings and spectacular rock churches, their walls decorated with vivid Byzantine biblical frescoes.
12:15 PM : We will  land on Cappadocia airport ,meet our luxurious  Coach/ vehicle  transfer to Cappadocia region. We will enjoy our site excursion, visiting Zelve Valley still has some cave dwellings, Pashabag Valley, well known for its Pinnacle (cone shape rock formation / fairy Chimneys) and The Goreme Open Air Museum which is the UNESCO list, famous for its rock carved churches, which are adorned/embellished with beautiful biblical frescoes from Byzantine period. This is the highlight of Cappadocia region.
18:  00 : After sightseeing ,we check in our Deluxe Cave Hotel in Cappadocia for dinner and overnight
19:00 : Before dinner , we meet at the lobby of hotel for drink and evaluating our trip .
20:00 : Dinner at our hotel's selective restaurant
Rock Formations of Cappadocia;
Cappadocia;  The  majestic jewel of Central Anatolia,  the  surrealistic extraordinary landscape of Cappadocia was created around 10 million years ago, when  three erupting volcanoes, blanketed the region with ash. The ash solidified into an easily eroded material called tuff, overlain in places by layers of hard volcanic rock. Over time, the tuff was worn away by natural forces; wind, rain, snow, and changes in temperature creating distinctive formations, including the capped-cone,' fairy chimneys', surrealistic shapes of cones, pinnacles, needles, pillars and pyramids, valleys, coves and canyons, Volcanic deposits have made this a fertile area for agriculture, with grapes, apricot, potatoes, pumpkin, sugar beet and chick pea, crops cereal grown locally.
Christianity came early to Cappadocia, St Paul passed through Cappadocia. In the 4C century they are produced three saints who are honoured by both eastern and western churches. St Basil the Great, his friend St. Gregory of Naziannen and St Gregory of Nyssa.
It seems likely that Cappadocian monasticism developed from the anchorites of the Early Church who sought refuge from the destructions of the world in wild, remote places. They devoted their lives to prayer, penance and fasting, often living in man-made or natural caves. The austere landscape and difficult climate of Cappadocia provided them with a perfect habitat. Cappadocia was a perfect hiding place and safe haven for early Christians and native people in the time of danger. People still live today in the perfectly insulated rock dwellings, which are cool in summer and protect from the cold in winter.
------------------------------------------------------------------------------------------------------------------------
DAY 07: FRIDAY: JUNE 21, 2021
CAPPADOCIA
05:00 AM – Deluxe Private Hot Air Balloon Tour over Cappadocia. After snacks we will transfer you to the Hot Balloon Air taking off spot for a private  Balloon Tour over Cappadocia.
Cappadocia is a landscape that you will have never witnessed before in your life time, This makes it one of the most popular spots in the world to go up in a Hot Air Balloon.
As you take off for sunrise you will start to be hypnotized by the spectacular and surreal landscape lies below you. You will gently drift over the fairy chimneys, fruit orchards, vineyards and through coves, valleys, pigeon houses. The different color of the diversified landscape leave you breathless
Take off and the flight
-Balloon flight begins to take off at around sunrise (approximately at 05:AM)
-The Balloon rise approximately 1000 feet to show you sunrise and extraordinary views of Cappadocia
-Then they descend and float through the valleys, over the fairy chimneys and spectacular lunar landscape of the region, excellent views to take pictures
-The tour is approximately 1 hour and 30 minutes
08: 00 AM: After Balloon Tour, we transfer you back to your hotel for breakfast
10: 00AM: Today, we continue to explore this magic, spectacular, imaginary landscape and the ruins of Cappadocia. We start our excursion with underground city/subterranean city, one of the several of them in Cappadocia, was used as safe haven in the time of danger ,during  enemy attacks and in harsh winter's time by ancient  native inhabitants  for centuries, we continue our sightseeing in Cappadocia, visiting other wanders of the region such as Pigeon Valley, Uchisar Rock Castle,  Red Valley, Ortahisar town  and Mustafa Pasha Town,(former wealthy  Greek town  before 1925),and Avanos an old pottery town, winery house  and Handcraft center.
18:00: Return back to hotel for Farewell dinner and overnight.
If time permits and you feel ok after a busy day, following dinner we will watch Whirling Dervish Show in 13th century Caravanserai.
DAY 08-SATURDAY: JUNE 22, 2021
CAPPADOCIA-VIA ISTANBUL -HOME
Departure from Turkey
-------------------------------------------------------------------------------------------------------------------------
After our last breakfast in Turkey, transfer to Cappadocia Airport, fly by private charter aircraft to Istanbul for your connecting flight back home
ESENDAL TAVEL ADVANTAGES
Fly in comfort between  Iconic locales throughout Turkey aboard an exclusively chartered aircraft/private jet with a dedicated flight crew.
Explore the opulent Ottoman Sultans' palaces (Topkapi Palace and Dolmabahce Palace  and their lives in secret Harem).
Visit the wonders of Istanbul, including Hagia Sophia, Blue Mosque, Byzantine Hippodrome, Turkish and Islamic Art Museum and Grand Bazaar and enjoy incredible private boat trip on the Bosphorus.
Tour the Ancient wonders of Turkey; such as the Ruins of Ephesus, Perge, Aspendos  and  stunning Antalya Archaeological Museum.
Discover the unique and surrealistic landscape of Cappadocia and its Underground Cities, Rock Dwellings, Rock Carved Churches with Biblical Frescoes and Fairy Chimneys (conical shape rock formations).
Tour Cappadocia and visit traditional hand craft centers; The Rug Weaving Centre, Pottery Workshop and a winery house.
Tea and Coffee with a Turkish family in Cappadocia
Enjoy a hot air balloon tour over the center of Cappadocia in early morning. Indeed this is one of the most exhilarating balloon trips found anywhere in the world.
Experience the ultimate in inspiring travel experience and adventure with Esendal Travel, the Turkey's Luxury Travel pioneers.
Privileged Access
Thanks to our un- matched network in Turkey-as well as an intimate group size of just 10 guests- your Private Jet Journey includes the kind of exclusive. Travel with a small minded of 10 like-minded guests on exclusive itinerary packed with insider access, fine dining, and luxurious accommodations , All visits and sightseeing will  be guided by our Turkey expert professional English -Speaking guide throughout . Jet from one destination to the next  with a staff of expert tour manager on board a privately chartered jet aircraft with experience and dedicated flight crew.
Esendal Travel Staff
Overseeing every detail of your trip is the expert  Tour Director and Manager to travel with you from start to finish to keep things running smoothly, while you travel each destination to add a personal perspective to every encounter.
The Finest in Hotels and Dining
Private Jet Journey features properties chosen by our expert for their authentic reflections, tier highest service and their luxurious of each destination's style and spirit. Your meals are more than just a chance to dine at the end of the day-All the restaurants are top and the best at each destinations, carefully selected, service the highest quality, the most delicious Turkish and International food and they are a complete feat  for the senses.
Private Jet Travel
Flying by private jet elevates your journey to an entirely new level of luxury, convenience and flexibility. Touch down in exotic Turkey's destinations, by pass long lines, and come and go a time table based on your itinerary. Enjoy the comfort and privilege of Travelling by  Private Jet.
FEATURES OF THIS PRIVATE JET JOURNEY
Itinerary Designed and Hosted by Esendal International Tourism & Travel's founder Mr.Yasar Ozdemir, who is a very experienced, knowledgeable professional Tur Guide and Expert about Turkey
Yasar has organized and has led many Luxury Trips throughout Turkey since 1985 as well as guided thousands of guests mainly from USA, UK, Australia, Canada ,Europe and from other countries
Luxury accommodations , and dining at the finest restaurants
Enjoying home- made lunches at special local restaurants
High level personalized service throughout the journey
VIP welcome: Exclusive vintage bottle of Turkish Champagne, daily fresh fruits and flowers.
Air transportation on a Custom Luxurious Private Jet with dedicated Flight Crew
English –Speaking expert tur Director , Tour Manager and local guides
Hand –Selected Luxury Accommodations-Hotels and the best Restaurants, delicious Turkish Cuisine
Full American and Continental Daily Breakfasts
Exploring the most visited highlights of Turkey with an expert guide and local guides
Luggage Handling Service and Gratuities for  Hotels and Restaurants
Ambulance with doctor and Nurse
Security staff during sightseeing and airport transfers
LUXURY HOTELS: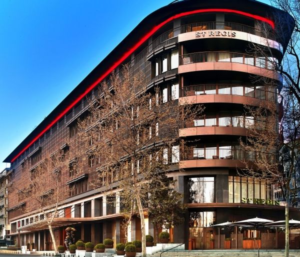 REGIS HOTEL -ISTANBUL .
Or Park Hyatt Macka Palace Hotel or Four Season Hotel
Regis hotel is in the hearth of Nisantasi district, Istanbul's most exclusive shopping district, and the fashion hub of city, has long been the district for high society to promenade and shopping. Many of the establishments here for over 100 years. The Nishantashi district is home to top fashion houses, elegant galleries,  top international brands such as  Gucci, Rolex, Bunbury, tiffany, Luis Viton, and more  and top Turkish clothing boutiques , shops( Vakko, and Beymen these two are the  top of Turkish fashion  in textile and clothing for more than fifty years) , elegant  coffee  shops, restaurants and bars.
Regis Istanbul features exceptional services and world-class facilities at Istanbul's best address. The St. Regis Istanbul is the ideal luxury hotel in Istanbul, forming a focal point for cosmopolitan Turkish and international society: Stay in our award winning guest rooms and signature suites uniting discreet luxury with timeless elegance, all a modern day interpretation of the St. Regis legacy. The St. Regis legacy of excellence is further personified by the signature St. Regis Butler service.
Rejuvenate at Iridium Spa with our exclusive services and Detox programme, or explore Istanbul attractions, the most exciting luxury fashion brands, the best art galleries, restaurants and events, all mere minutes from the hotel.
SWISSOTEL BUYUK EFES-IZMIR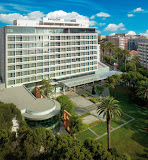 Set in 12000m2 of landscape gardens Swissotel Buyuk Efes-Izmir s a 5 –star top deluxe hotel located in the heart of the city's commercial hub and overlooking the spectecular Kordon Promenade,  on Turkey's Aegean Sea. The hotel is within walking distance from Commercial Centre and major attractions. Swissotel Grand Efes has 402  luxury rooms including 55 elegantly decrated suites.
At Swissotel Buyuk Efes the guests are presented a slection of traditinal Turkish and contemporary cuisine in a variety by Café Swiss, Equinox,  Aquarium Mezzes & Grill and Sky Bar.
Over 5,500m2 , Proval Spa & Sportprovidesthe Alpine inspired solutionsto healthy living ithin a stylish and contemporary enironment.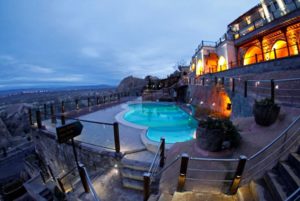 CAPPADOCIA CAVE RESORT AND  SPA HOTEL or Argos in Cappadocia
Region's only Spa Hotel with cave-therapy rooms overlooking the magnificent and beautiful Red Valley. This unique location offers an uninterrupted panorama highlighted by mesmerizing sunrise and sunset vistas which have been described as ''charming' 'amazing'' and ''epic''. Guests sleep in millennium –old caves and  rock –cut luxurious rooms that bring the aura of the old settlements and the spirits of the ancient village back to life.
CCR HOTELS & SPA offers a wide range of accommodations to let you enjoy casual yet refined elegance at its best. Almost all guest rooms offer private balconies and/or terraces with matchless views of the Cappadocian landscape.
SENIOR SUITES;
When you saunter into your Suite room, you are enveloped by the warm, inviting ambience. Take time to relax with your companion or escape to a quiet magical tranquillity in your private Jacuzzi. The gracious impression continues as you settle into your distinctively decorated Senior Suite, with a French bed and a private patio or balcony.
OR
Argos in Cappadocia
Set in the heart of Anatolia on the hilltop village of Uchisar , Argos in Cappadocia captivates visitors with its mystical landscape shaped by Mother Nature over millennia. The unique five –star property is part of archaeological treasure, part charming rural retreat, paying homage to local traditions with its distinctive architecture and interior design as well as its delicious culinary offering.